Depending on where you are in the world, you may be smack in the middle of spring – as in time for Spring Cleaning.  Even if it isn't spring, it's a good idea to occasionally audit your Jira installation, archive elements that aren't being used and revisit your configuration to ensure that it's optimized. Below are the basic steps you will need to perform a "Jira Clean-up."
Jira Clean-up Step 1: Audit
The first step is taking stock of what you have.  To do this, start with the "System info" page and note the number of projects, issues, custom fields, workflows, etc.  Next, visit the Add-ons admin page and the admin area for each scheme and project asset.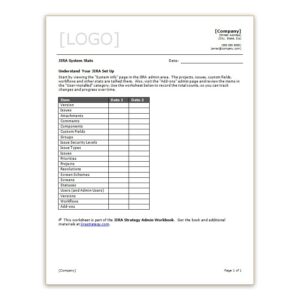 Rachel Wright offers a worksheet for recording this information.  Alternatively, you could use a spreadsheet or create a form in ProForma. The important thing is that you will want to track the number of Jira assets over time. 
As you go through the admin pages, note assets that are unused (such as a field that doesn't appear on any screens), duplicated (or perhaps similar enough in purpose that only one field is needed) or inactive.
Once you have a complete picture of your current application, you can set goals for your clean-up.  Along with removing assets that aren't being used, goals could include reducing the number of workflows for easier support and reducing the number of custom fields for better performance.
Jira Clean-up Step 2: 
Archive
Before you begin pruning out unnecessary elements, backup and verify your data.  Also, make sure you have a rollback plan in case any of your changes cause unanticipated problems.
Elements
Go to the admin page for each element type and use the "identification" column to weed out unused items.  The Jira Strategy Admin Workbook includes detailed instructions for easily identifying unused elements.  In some cases (for example, if you are eliminating an issue type), you may need to migrate issues before deleting.
Deleting unused items is the first step.  Depending on your goals, you may also want to consolidate custom fields or workflows.  When consolidating fields, consider which field is more widely used, which has a better name, and which can be more easily deleted.  Again, you may need to migrate data before you can delete.
Projects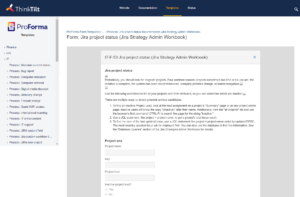 Along with pruning down Jira elements, you should also check for stagnant projects.  Use the Jira Strategy Admin worksheet or the ProForma form to identify projects that have an inactive project lead, few issues or no recently created issues.
You have several options for dispatching completed or stagnant projects:
Prevent new issues from being created

Mark the projects as read only

Hide the project

Archive the project

Export the project
Rachel Wright describes the appropriate use, as well as the implementation steps, for each method in the Jira Strategy Admin Workbook.
Users
Finally, you need to address users who have left the organization.  Don't users because you want to retain the history of their actions.  Rather, set departed users to "inactive."  However, before doing so, Rachel recommends the following steps:
Move any not closed, assigned issues to the user's supervisor

Move any not closed, reported issues to the user's supervisor

Remove unshared custom dashboards, filters, filter subscriptions and boards

Remove favorite designations for dashboards

If a dashboard is used by others, move the dashboard to the supervisor or a generic user account

Remove favorite designations for filters

Move shared filters to the supervisor or a generic user account

Reassign project leads to the supervisor

Reassign component leads to the supervisor

Remove filter subscriptions

Remove draft workflows

Reassign agile boards to the supervisor

Check workflows for any auto assignment transition behaviors

Make the user account inactive
Making the time to regularly review and tidy up your application will make your ongoing admin duties easier and will keep your application clean, relevant and high-performing.