Where's the best place to track your Jira migration? It's the same place you'd track any other strategic company initiative! I always track my work for Jira in Jira. That includes everything from small configuration changes to big projects like migrations and upgrades.
To make it easier for you to manage your migration in Jira, ThinkTilt has added three of my migration templates to their app! The ProForma for Jira app has always been the gold standard for checklists and forms in Jira and now you can use it to manage your migration as well.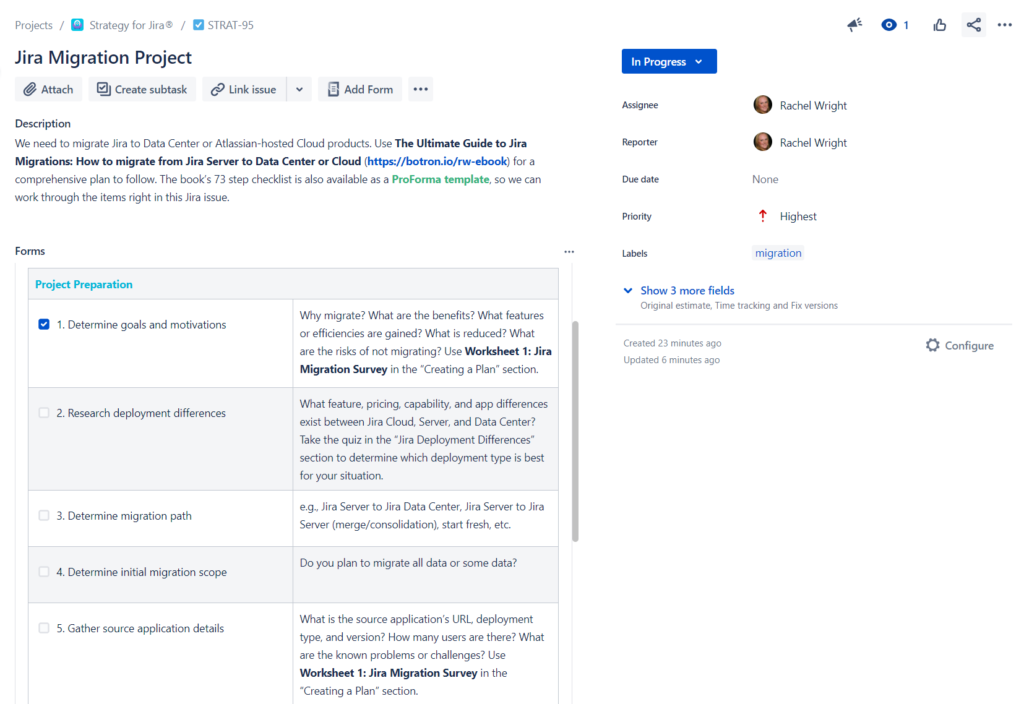 New Templates
The following migration worksheets are now available in the ProForma for Jira template library:
ProForma's form library includes hundreds of templates to use or customize. Check out these forms in the ProForma demo site or in the ProForma app. Here's how:
Instructions
Step 1: Install
Install the free or paid ProForma for Jira app in Jira Cloud, Server, or Data Center.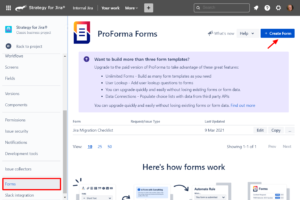 Step 2: Create a Form
To create a form in a Jira project, click Project Settings > Forms. (Or create from the application admin area at: Admin > Manage Apps > Forms.) Next, click the "Create Form" button on the top right.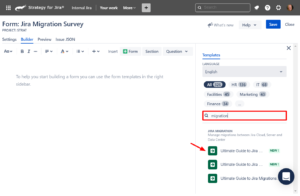 Step 3: Choose a Template
Choose one of the migration templates. In the form builder, enter "migration" in the search box on the right, as shown. Select a template and make any desired content or setting customizations.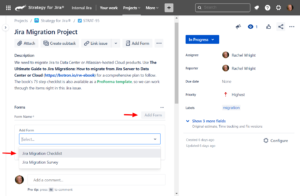 Step 4: Add Form to Jira Issue
Finally, create a Jira issue and add the form to it. Click the "Add Form" button, select the form, and complete the form fields as you plan your migration project.
Want to use the worksheets, but don't have ProForma? Click here to get started.
If you don't have my new book, The Ultimate Guide to Jira Migrations: How to migrate from Jira Server to Data Center or Cloud, download it now from the Botron website.