Learn more about the JIRA Strategy Admin Workbook below.  If you need additional information, please contact info@jirastrategy.com.
Contact Info & Event Booking
Rachel Wright
info@jirastrategy.com or 443-317-3279
LinkedIn | Twitter
Rachel Wright is available for speaking engagements, interviews, and appearances. She is also happy to speak to groups via telephone or web conference.
Book Information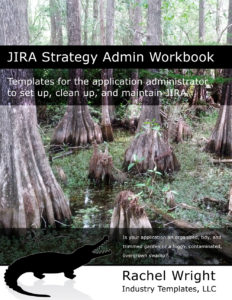 Title: JIRA Strategy Admin Workbook
Sub title: Templates for the application administrator to set up, clean up, and maintain JIRA
Author: Rachel Wright
Publisher: Industry Templates, LLC
Date of Publication: November 30, 2016
Retail Price: $59.99 USD (Print Version)
ISBN-13: 978-1539090229
ISBN-10: 1539090221
Pages: 295
Download the worksheets, templates & companion materials for this book from the JIRA Strategy Store at:  jirastrategy.com/store.
Downloads
More Information
Promotion Information
Whenever promoting the book, please link to https://www.jirastrategy.com.
When you post a review or promotion, please let us know so that we can link back to you.