Menu:  Intro | Day 1-2 | Day 3-4 | Day 5-7 | Retrospective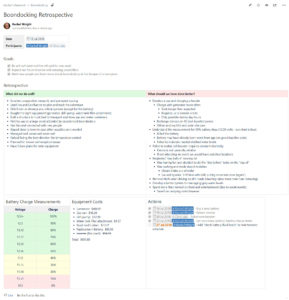 In the software development world, each time you complete a project, you review what went well and what you could do better next time.  It's called a "retrospective" or a "post-mortem."
We did a retrospective on our boondocking adventure, using Confluence's template.  These are the results.
What We Did Well
Excellent preparation, research, and pre-event testing
Used Jira and Confluence to plan and track the adventure
Didn't ruin or damage any critical systems (except for the battery)
Bought the right equipment (generator, drill pump, water tank filler attachment)
Built a structure in truck bed to transport and store gas and water containers
First try was at a large event attended by experienced boondockers
Had fun and connected with new people
Stayed close to town in case other supplies were needed
Managed and conserved water well
Parked facing the best direction for temperature control
Planned for known cell reception issues
Have future plans for solar equipment
What We Should Have Done Better
Develop a use and charging schedule

Charge with generator more often

Took longer than expected
Requires us to remain onsite
Only possible during day hours

Recharge devices on AC (not inverter) power
Utilize existing USB and solar chargers

Understand the measurement for 50% battery draw (12.06 volts – see chart below)

Killed the battery
Battery may have already been weak from age (no good baseline stats)
Failed to maintain needed distilled water levels

Failed to realize cell booster requires constant electricity

Device is not generally reliable
If not attending an event, we would have switched locations

Neglected "day before" moving list

Was having fun and decided to do the "day before" tasks on the "day of"
Was rushing and made stupid mistakes

Closed slides out of order
Caused injuries:  Hit face with drill, cut leg on screen door (again!)

Remove hitch when driving on dirt roads (cleaning takes more time than removing)
Develop a better system for managing grey water levels
Spent more than normal on food and entertainment (due to social events)

Saved on camping costs however
Subsequent Mistake
Overall, we met our goals of living off the grid for one week.  By gaining boondocking skills and equipment we've enabled ourselves to camp in different types of locations.  City power, water, and sewer are no longer a limiting factor.  We also had fun networking with other full time campers.
We were so confident with our experience that we decided to try it again immediately.  We needed a one night stop between Pagosa Springs, CO and Santa Fe, NM.  We searched the online camping directories and decided on a free overnight spot, in a municipal park, near the half way point.  The location was excellent and we had the entire park to ourselves.   How could this go wrong?
We neglected to check the weather report.   RVs and travel trailers heat up very quickly, just like a vehicle does.   When it gets hot, you put our your awning, unfold your camping chair, and work outside until the sun goes down.  It's not too bad if you also have a cold glass of iced tea to enjoy.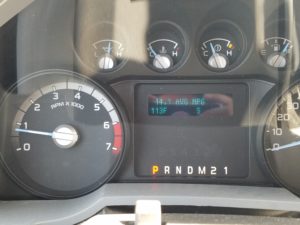 It's Summer in the United States so we expected it to be hot – but not this hot!  The truck's thermometer read 113° F (45° C) and the analog thermometer inside the RV read 106° F!  For the first time ever, the inside of the RV was just as hot as the outside.  There was no escape and no amount of iced tea provided a reprieve.  We had to sweat out the afternoon and night and learn a hard preparation lesson.  I always check the weather report for storms and high winds, but never for excessive heat.  The learning continues…
I hope you enjoyed following along on our adventure and alternate use of Jira and Confluence.  Atlassian tools can track anything!  I encourage you to experiment with alternate uses from both your work and personal life.  Happy Jira issue and Confluence page creating!