If you have Jira Software and Jira Service Management, how do you know which project admin links are for Jira project settings and which are for service management features?
While both Jira Software and Jira Service Management settings work together to power support projects, it's helpful to know which links are for which application type so you can consult the correct documentation and information.
Here's a handy list and and some differences between links in the Cloud and Server deployment types.
Project Admin Area
To get to a project's admin area click the "Project settings" link in any Service Management project. It's at the bottom of a project's left sidebar. In Jira Server, the link takes the admin to the "Request types" page by default. In Cloud, the link takes the admin to the "Details" page by default.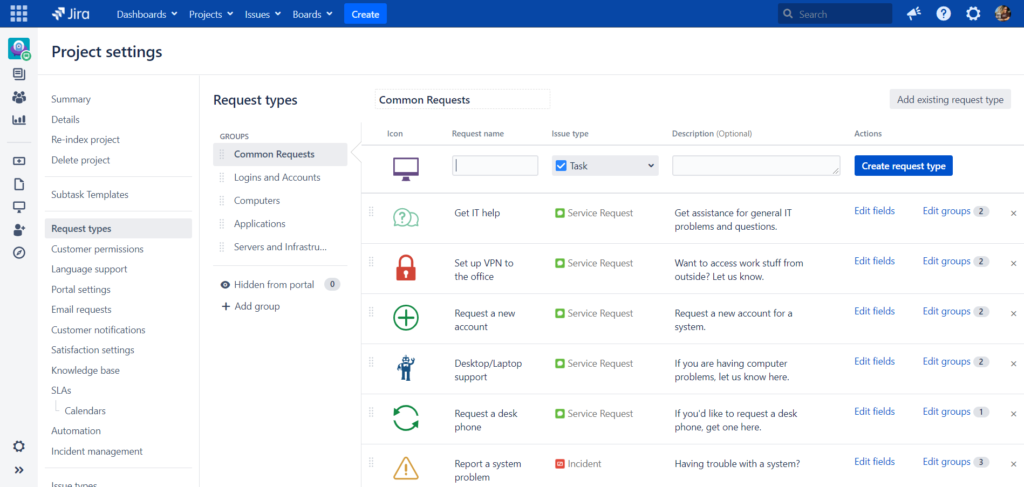 In Server, the first set of sidebar settings are common to all Jira projects. Those links include: Summary, Details, Re-index project, and Delete project.
Further down the page are settings specific to Jira Service Management (JSM) projects. The first link in the section is labeled "Request types".
The additional links below are for standard Jira project settings like issue types, workflows, screens, and more. You might also have additional links for managing third-party app settings.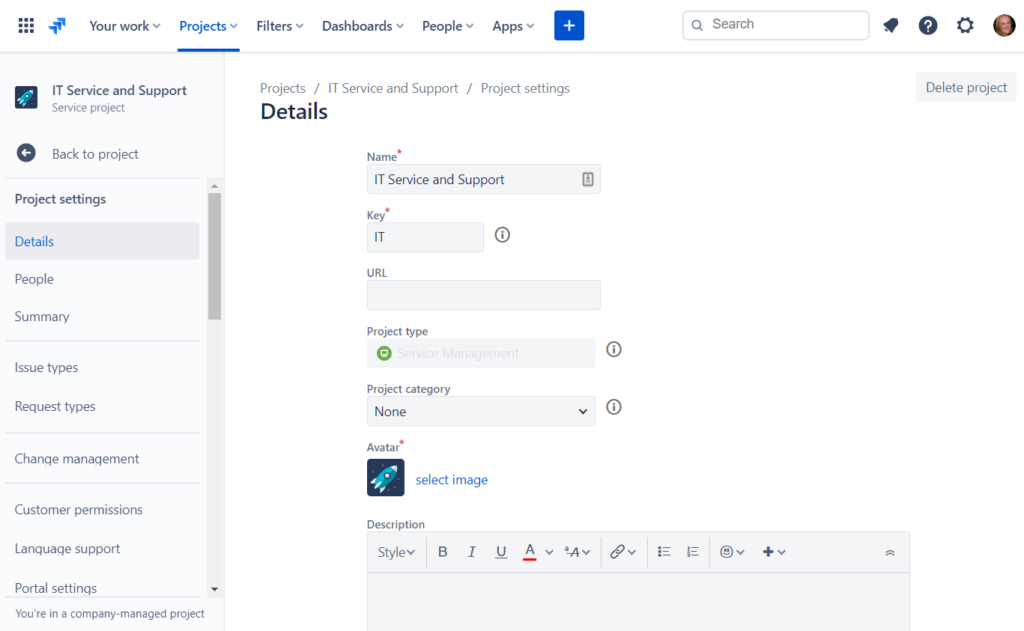 In Cloud, the Jira and JSM settings are ordered differently.  For example, the second section shows the Jira issue types and the JSM request types together.
Settings List
Here's a handy list of the typical sidebar links and which application type they belong to.
Jira Software
The following settings are used by software-type projects:
Summary
Details
People (Cloud only)
Re-index project (Server only)
Delete project
Issue types
Workflows
Screens
Fields
Priorities
Versions
Components
Users and roles (Server only)
Permissions
Issue Security
Notifications
Project links
Development tools
Issue collectors
Jira Service Management
The following settings are used by service-type projects:
Change Management (Cloud only)
Request types
Customer permissions
Language support
Portal settings
Email requests
Customer notifications
Widget (Cloud only)
Satisfaction settings
Knowledge base
SLAs
Calendars
Automation
Apps (Cloud only)
Incident management (Server only)
Need help using or configuring Jira Software or Jira Service Management settings? Take my LinkedIn Learning courses to understand capabilities and best practices.
Rachel Wright's Jira Courses on LinkedIn
Planning and Releasing Software with Jira (Coming soon)
Learning Jira Software (Coming soon)