Quite simply, I love this Jira app. Why didn't I think of this? Why didn't Atlassian think of this? Luckily, the good folks at Origo did and I'm excited to share their creation with you! With Servado Enterprise Portals for Jira, there's finally a real way to tie all your Atlassian (and non-Atlassian) applications together! Now users have a "home base" or a starting point for everything they need to do.
Servado creates a single entry point for your entire organization and it uses your existing Jira database to do it. There's no need for a separate application; Servado leverages the amazing ticketing and reporting power of Jira, but adds portals, chat, external content, and other capabilities. This application brings everything your organization needs to a single, fully customizable, interface. Servado provides one place to manage all your business processes. Best of all there's no coding needed and the app only consumes one Jira user license.
Use Cases
The possibilities for using this app are only limited by your imagination. What you create won't impact the performance of your Jira application.
Here are some ideas:
Create a single Portal as an intranet for your organization
Build a Portal, Tab, or Collection of Tabs for each department or team
Create a custom branded Portal for your vendors or partners
Build separate Portals for each of your clients
Here are some ways the app helps:
Users can create and find their Jira issues without going to Jira
Users can can create multiple, dependent issues, without a separate workflow app
Teams can create help Portals without additional service desk software
Companies can provide specific views and abilities to vendors and customers
Companies can share information with non-Jira users
Admins can connect with or link to other tools
My Use Case
To test this app, I created a Portal to use as an intranet. The Portal has a Collection of Tabs for departments and resources and a different Collection of Tabs specifically for consultants. I customized the Portal with my logo and color and added Tiles for actions users can perform.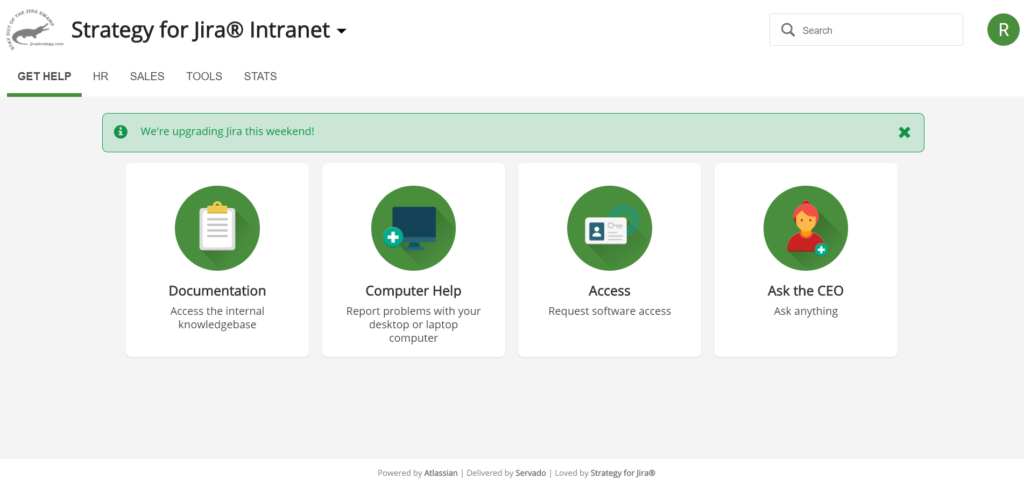 When the user logs in, they see the first Tab named "Get Help". This Tab contains Tiles for accessing internal documentation, requesting help or access (using Jira), or asking a question (via email form).
If the user selects the "Computer Help" Tile, they create a Jira issue without leaving the Portal. In the first screenshot below, the user reports a problem. The "Summary" and "Description" fields are mapped to the equivalent Jira fields. The "Location" and "Operating System" fields are Servado-only fields however. The information is collected and passed to Jira's "Description" field. This way you can collect important info without needing new custom fields in Jira. The second screenshot shows the issue in Servado. The third screenshot shows the same issue in Jira. A user can add comments or attachments from either interface.
On the "Sales" tab are Tiles of specific interest to the Sales team. The "Tools" tab contains links to frequently used applications. The "Stats" tab shows real time Jira statistics from JQL queries.
Finally, I also created a second Portal for a fictitious client named "Alpha Company." This Portal has different colors, Tabs, and Tiles and is focused on common customer actions like, accessing project and account information. The "Stats" tab was cloned from the same tab in the other Portal.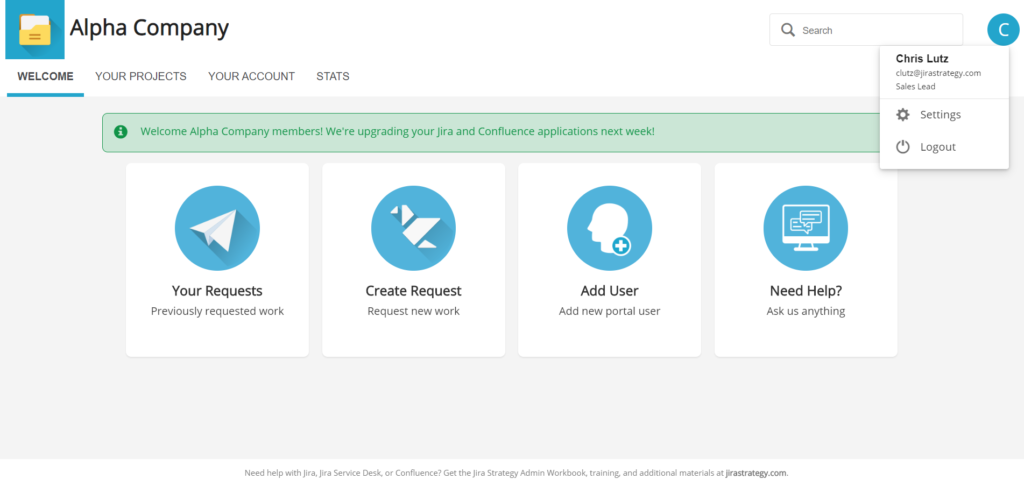 First Impressions
When I became a Jira administrator, the most confusing part of project administration was understanding how all the schemes worked together. Jira administration has a bit of a learning curve, but once you understand scheme relationships, and spend time configuring settings, it all starts to make sense. The same is true with Servado. It took me a while to get my first Portal set up "just right" but once I did, it was really fun and easy to add more Portals, Tiles, and capabilities.
Here are some Servado terms you need to know:
Portal – A website with a unique logo, color scheme, and footer. Read more
Tab – A view containing options and actions. In the screenshot below, the first Tab, named "Welcome", shows common tasks. Click a different Tab to see other options.
Tile – An individual option or action. In the screenshot, there are four Tiles to help users accomplish common tasks. Once a Portal is set up, you'll spend most of your time in the "Tabs and Tiles" configuration area.
Collection – A group of Tabs and Tiles. The collection in the screenshot contains four Tabs and multiple Tiles. A Portal can have one or more Collections and you can switch between them. In this screenshot, there's a second collection for "Consultants". Read more
Claim – A user attribute. The Claims in this screenshot are the user's name, email address, and job title. Claims allow common data to be reused in multiple places. For example, since Chris' title of "Sales Lead" is stored by Servado, I can pass that info into Jira issues or use it to filter data.
Security profile – Settings for access and authentication. Just like you can share a Permission Scheme between projects in Jira, you can share security settings between Portals in Servado. (Not pictured)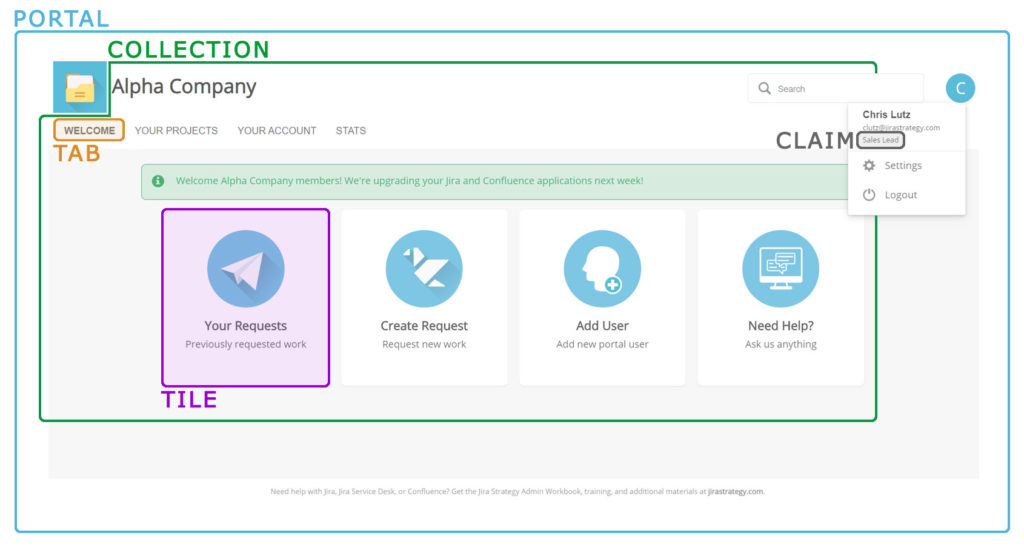 Before you dive in to the Servado configuration, determine how many Portals, Collections, Tabs, and Tiles your organization requires. For each Tab, consider what actions users can perform. Use my use case (downloadable below) and Servado's demo instance for ideas. Once you know what you'd like to build, review all the documentation. Be sure to watch the video called "Servado overview – Create a Portal from scratch in less than 3 minutes".
You'll need the following:
Access: Jira application administrator permissions to install and configure the app
Environment: Jira Server
Install: Install the Servado app from the "Find new apps" page in your Jira instance. Apply a free trial or paid license on the "Manage apps" page.
Origo uses their own Servado app internally and for support – which I love. If you need configuration help, simply request it from their support portal.
Q&A
I talked with Kristján Geir Mathiesen, Customer Success Manager at Origo, who answered all my questions. They were:
How many Portals, Collections, Tabs, and Tiles can I have?
There's no technical or performance limit. The amount depends only on your use case and imagination! At Origo, we have 150 Tabs in 35 Portals, using 10 Security Profiles. Servado mainly stores configurations for the Portals. All the issue data remains in Jira, except when it's displayed for Servado-only users or for the "Issue Manager" feature.
Can a single user access multiple Portals?
Yes. Portals and access are determined by Security Profiles. Multiple Portals can use the same Security Profile and each Portal can contain multiple Tab Collections. Each Portal has a unique URL and the user sees all Portals they have access to.
Currently Servado can create Jira issues in "Business" and "Software" projects. Will you add issue creation for "Service Desk" projects?
Yes, we are investigating this. There are a couple of user issues that need to be resolved before Servado is JSD compliant.
Are you planning a version for Data Center or Cloud?
We are working with Atlassian for Data Center app approval.
How does Origo use Servado internally?
Origo uses Servado for almost everything. All IT related requests are created in Servado. Employees request new IT equipment, such as laptops, monitors, and cell phones. Users report software bugs, improvements and feature requests in Servado too. Additionally, employees apply for reimbursements, physical grants, travel requests, and every other employee related process. We also use Servado to present statistics and reports to our external IT clients. During the Covid-19 crisis, Servado helped quickly gather employee travel details and provide company policy information.
How is Origo affiliated with Tempo?
Origo is the creator of Tempo, a well-known Jira time tracking application.
Can Origo set Servado up for me?
Yes, absolutely! Origo can setup and configure Servado using general best practices and your organization's specific processes.
What features are you working on for the future?
We are implementing end user approvals (workflows) on tickets. Example: allowing manager approvals for purchase requests. We're working on a customer satisfaction survey and automatic sign up for new Portal users. An improved mobile interface is also part of the next sprint.
Free Use Case Download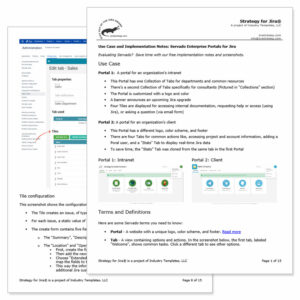 Evaluating Servado Enterprise Portals for Jira?
Save set up time with our free, 15 page, use case implementation notes and screenshots.
Resources