I'm using the Memorial Day holiday to work on writing my very first book.
The book is about JIRA, an issue and project tracking application made by Atlassian.
This project is harder than I expected but I'm finally getting somewhere. I'm up to 185 pages today!  (About 1/2 way there.)
---
UPDATE:  The completed 295 page book was published on November 30, 2016!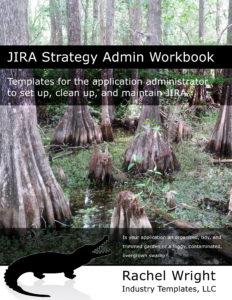 Title: JIRA Strategy Admin Workbook
Sub title: Templates for the application administrator to set up, clean up, and maintain JIRA
Author: Rachel Wright
Publisher: Industry Templates, LLC
Date of Publication: November 30, 2016
Retail Price: $59.99 USD (Print Version)
ISBN-13: 978-1539090229
ISBN-10: 1539090221
Pages: 295
Download the worksheets, templates & companion materials for this book from the JIRA Strategy Store at:  jirastrategy.com/store.