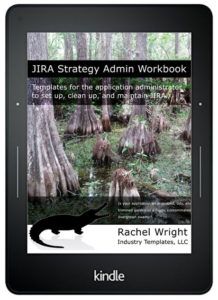 The Jira Strategy Admin Workbook is available in Kindle format!  Now you can set up, clean up, and maintain Jira on the bus or on the beach!  No need to carry a heavy, 296 page, textbook around.
Get the Jira Strategy Admin Workbook in three formats:
Already have the Print?  Add Kindle or Digital for $2.99!
The book is part of Amazon's MatchBook program.  Purchase the print version (sold and fulfilled by amazon.com) and get the Kindle version for only $2.99.
Steps to Redeem:
Login to your Amazon.com account
Visit the MatchBook page
Scroll down to "Your Kindle MatchBook titles" as shown below
Click the "Get Kindle Edition" button

No Kindle device?  Add the digital version for $2.99.
Steps to Redeem:
Email a photo of you and the book to:  info@jirastrategy.com.  Bonus points for photo creativity!  We'll email you a code to discount the digital version to $2.99.