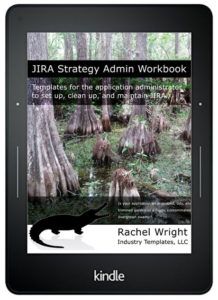 The Jira Strategy Admin Workbook is available in Kindle format!  Now you can set up, clean up, and maintain Jira on the bus or on the beach!  No need to carry a heavy, 296 page, textbook around.
Get the Jira Strategy Admin Workbook in three formats:
What Kindle versions are supported?
You can see the list of supported devices on the Amazon product page.  Visit https://amzn.to/2Ffv0qv and click the "Available on these devices" link below the product description.  Also see Amazon's list of compatible Kindle Cloud Reader browsers.
No Kindle device?  Have the print and want the digital too?  Add the digital version for $2.99.
Steps to Redeem:
Email a photo of you and the print book to:  info@dreamsites.io.  Bonus points for photo creativity!  We'll email you a code to discount the digital version to $2.99.