In my previous How to Study for Jira Administrator Certification article I shared my tips for preparing for and taking the Jira Certification exam.  Now that you've passed the exam, you might be asking, what's next?  The initial exam is only the first step in your Jira learning journey!  You'll need to take additional exams or skills challenges to keep your certification alive.
After earning the initial certification, Atlassian has two ways to maintain it:  Certified Badges and Skills Badges.  As shown below, for ACP-100, there's an "Advanced Jira Workflows" (ACB-100) Badge, an "Email in Jira" (ASB-112) Skills Badge, and additional options on the way.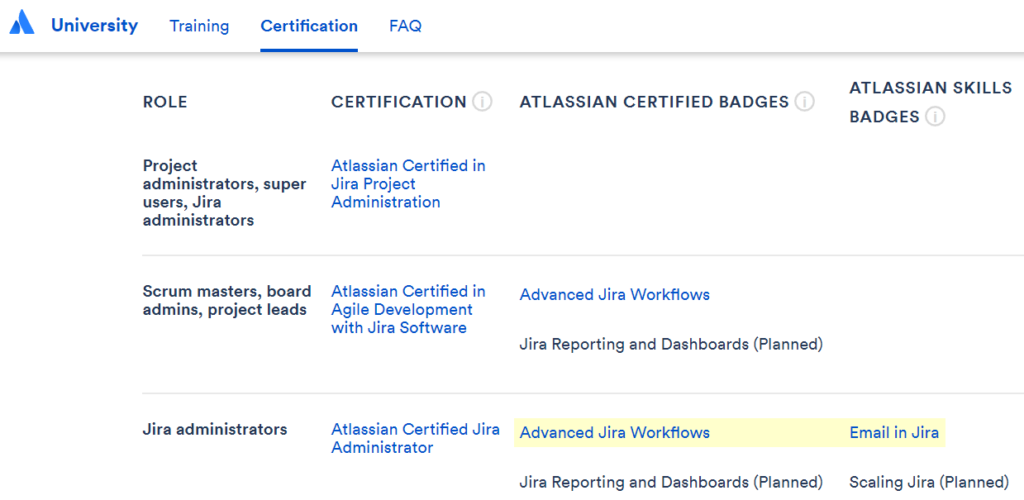 See the extension options for all certifications in the table at the bottom of: atlassian.com/university/certification
Certification vs Badge vs Skills Badge
As you remember, the initial certification exam is long, moderately expensive, and requires you to physically appear at a testing center.  Not so with the "Advanced Jira Workflows" Badge exam!  You can take it online from your home or office, there are fewer questions, and the test is also less expensive.  For this exam type, you'll need a reliable internet connection, a web cam, a microphone, and to install required testing software.  An online proctor monitors your movements and biometrics are used for authentication.  But what if your web cam is broken or you have an unsupported Chrome OS laptop?  Simply go back to your local testing center and complete the exam there.
The "Email in Jira" Skills Badge exam is even easier to take!  With this exam format, you watch a webinar, take notes, complete self-study homework, and then take an "online assessment" (quiz).  This exam is non-proctored, has the least amount of questions, and is the lowest price.
"Email in Jira" Skills Badge
I really enjoyed the Skills Badge format and the "Email in Jira" webinar in general!  How often do you connect Jira to a mail server?  For most of us the answer is: once or never!  For me, it was all already setup and functional when I inherited my application.  But I often troubleshoot email related issues, so understanding more about how mail works in the background is very useful.
The webinar told me just how much I didn't know about Jira email!  For example, did you know Jira will try to send a notification message 10 times?  I didn't!  As soon as I learned that, I searched for any active service accounts with bogus user email addresses and found many!  I cleaned those up immediately, so Jira wouldn't try and try and try to send messages to accounts like "former-employee@domain.com" and "blah@blah.com."  (Shame on the admin that entered the bogus addresses in the first place!)  No more slow mail queue for me!
As a nervous test taker, this "webinar then quiz" format was much easier to accomplish.  I love that I learned new things as part of the certification extension process.  It was training and validation all in one!  I hope Atlassian adds many more badges in this format.  Earning this badge was a very valuable experience – one I'd recommend even if I didn't need to extend my cert.
Materials
This skills badge includes:
an online course delivered by pros Alex Ho (ServiceRocket) and Matt Doar (previously ServiceRocket, now LinkedIn),
4 pages of downloadable questions to consider during the webinar,
2 pages for note taking to compare incoming to outgoing mail, and
a 60 minute online quiz.
Note:  You must watch the webinar in its entirety and complete the quiz to earn the badge.
Study Tips
In addition to my original tips, I recommend:
read all the available incoming and outgoing email documentation,
review the email related settings in your own instance – multiple pages in the Admin > System area, the "Events" admin page, a Notification Scheme, and also end-user, dashboard, and profile features related to "watching",
block off time and block out distractions so you can focus on the webinar content,
pause the webinar to answer the provided sample questions, and
actually complete the homework – take some time to think about the email problems you've experienced and their cause.
Atlassian recommends allowing a half-day to complete the entire process.  The webinar took me a while to complete because I stopped to take notes, answer questions, and play back some sections.  It was worth it and now I feel like I know a lot about Jira email!  There was plenty of time to complete the final quiz.
Final Thought
As always, remember that whether you pass or fail, certifications are a learning process!  If you've learned something new from the experience, you've already won!
| | | |
| --- | --- | --- |
| | ACP-100 Jira Admin | ASB-112 Email in Jira |