Series Menu: Intro | Gear Tests and Practice Walks
In this post of the "Trekking with Trello" series, I'll share how I used Trello software to prepare for my long distance walk on the Camino de Santiago in Spain. I'm a planner and a researcher. I like data and hate unknowns. I want to know exactly what I'm getting myself into whether it be a new project, a new business, or a new personal adventure.
Planning this trip was no exception. I researched this topic to death and enjoyed every minute of it! I read 7 books, browsed countless websites, viewed every documentary I could find, and even watched two different people's daily videos of their own experience. I've shared the most helpful books, websites, and movies in a public Trello board.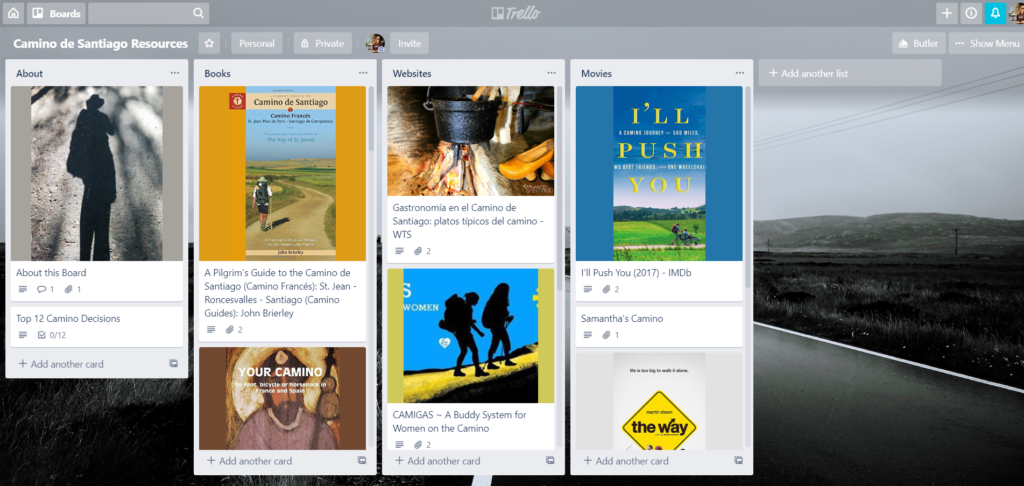 Copy this Trello Board
Planning your own hike on the Camino Francés route? Use my "Camino de Santiago Resources" board as a starting point! Trello makes it really easy to copy cards, checklists, and even entire boards. Here's how:
Visit my board
Open the board's menu on the right
Select the "More" option and select "Copy Board"
Give the board a new name and click the "Create" button at the bottom
A copy of the board, complete with the cards and my recommendations, is created in your account to further customize to your liking.
This feature is an excellent way to quickly create new boards and share information. Use it for onboarding new team members, performing regular maintenance duties, or as a template for any repeatable set of tasks. To let everyone (including search engines) view a board, set its visibility to "Public". The visibility setting is at the top of the page, to the right of the board's name.
Camino Decisions
Also included in my resources board, is a decision checklist. The checklist is automatically copied to your new board along with the other cards. You can add one or more checklists to any Trello card by clicking the "Checklist" option, on the "Add to Card" menu, in the right sidebar.
This is the questions list I wish I'd had when I was researching. Answer the following to start planning your Camino journey.
Will you walk, cycle, or travel on horseback?
Will you travel alone, with a group, or join a tour?
What is your budget?
How many days will you spend on the trail?
Will you camp, sleep in albergues (hostels, shared accommodation), or stay in hotels?
Will you pre-book accommodations or choose where to stay along the way?
Which route will you travel?
Where will you start and end your journey?
Will you wear shoes or boots?
How will you stay cool in the heat or warm in the cold?
How will you stay dry in the rain?
When will you go?
Training & Exercise Plan
Part of my planning was training my body to walk long distances. I set some overall goals in Trello and tracked the details of my preparation walks.
As you can see, I marked the "Training & Exercise" card "complete" but didn't actually check off all my goals. I didn't make smart decisions on my 10 mile test hike, which you'll see in the video below. I also didn't complete any sizable back to back hikes.
For each official prep walk, I noted how far I went, the conditions that day, and the failure or success of the gear I was testing. If I wanted to report on or sum this data, more structure is needed and that's a job for Jira. Since I only wanted to record the details for my own memories, a simple comment in Trello worked just fine.
Gear Tests and Practice Walks
Caring for your feet and preventing blisters is a high priority for any long distance walker. I spent a lot of time breaking in shoes and finding the right brand of socks. I walked into a river to verify my shoes were waterproof and tested all of the "smart" socks to learn which would work best for me. I took short practice walks to disqualify socks that were too hot or too thin. I took longer distance walks to make sure my body was up for the challenge. I learned what distance I could handle and made some silly mistakes along the way. This video shows some of my preparation:
What's next with Trello?
In the next post in this trekking series, I'll share more Trello tips, Camino advice, and photos from my trip.
Have a question about my trek or about using Atlassian products like Jira, Jira Service Desk, Confluence, or Trello? Ask questions in the comments section below.