Series Menu: Intro | Gear Tests and Practice Walks
I frequently combine my love for travel with my love of Atlassian products. In my "Boondocking with Jira and Confluence" series, I used two Atlassian tools to plan our first "off-grid" camping experience. We've been touring the US in an RV since 2015, and have always used Jira and Confluence to plan trips. Now it's time for my next adventure! This time, I'll use Trello to plan a 200-mile walk on the Camino de Santiago in Spain!
Frequently asked questions about Trello and my trip:
What is the Camino de Santiago?
The Camino de Santiago is a network of ancient pilgrim routes that lead to the cathedral of Santiago de Compostela in northwestern Spain. Each year, over 300,000 walkers, cyclists, and even a few horseback riders, travel many routes originating in Spain, Portugal, and France. This 4-minute video provides a good overview of the journey.
How far are you walking?
"Which route will I take?", "Where will I start and end?", and "When will I go?" were all early questions on my Trello board. I couldn't plan any other travel details until I answered those questions. I read countless travel books and blogs to decide and once I had answers, I used Trello's "Due Date" function to mark those cards complete and move on to other planning tasks.
My portion of the walk is approximately 200 miles or 313 kilometers. I'll walk the most popular route, called the Camino Francés, and start in Leon, Spain. I've been to Barcelona twice, both for Atlassian Summit, so this time, I'm arriving in Madrid.
The full Camino Francés route starts from St. Jean Pied-de-Port in France. This route is approx 480 mi /775 km, requires a climb over the Pyrenees mountains, and takes 5 or more weeks to complete. That seemed a little daunting for my first long-distance hike! I'll try this shorted version first and see how it goes.
While I'm "Trekking with Trello" enjoy $10 off your order at the Strategy for Jira Store
Code:
TREKKING
Shop Now
Valid: September 2019
Why are you walking?
To be completely honest, I don't know yet. I'm hoping I'll know when I arrive in Santiago. I'd heard of this walk a very long time ago but I can clearly remember the day I decided I wanted to attempt it. In the fall of 2017, our RV trip took us to Phoenix, Arizona. I saw an advertisement for a documentary film showing right down the street from our campground. "I'll Push You", is a film about a man who pushed his wheelchair-bound best friend the entire length of the Camino. Their inspiring story, and the desire to do something interesting with my vacation time, motivated my trip.
Others do the walk for a variety of reasons including spiritual, religious, adventure, tribute, remembrance, transition, celebration, etc. In another documentaty, a group used the experience to overcome addiction. I even read a story of walking the Camino as penance. The potential reasons and personal motivations are endless.
What type of terrain is the trail?
The trail is every material except sand and lava. (If you haven't done a lava trek, add that to your bucket list. I highly recommend it!) The route leads through large cities, tiny villages, and vast countryside in between. I'm expecting a mix of rock, mud, grass, gravel, dirt, cobblestone, and asphalt.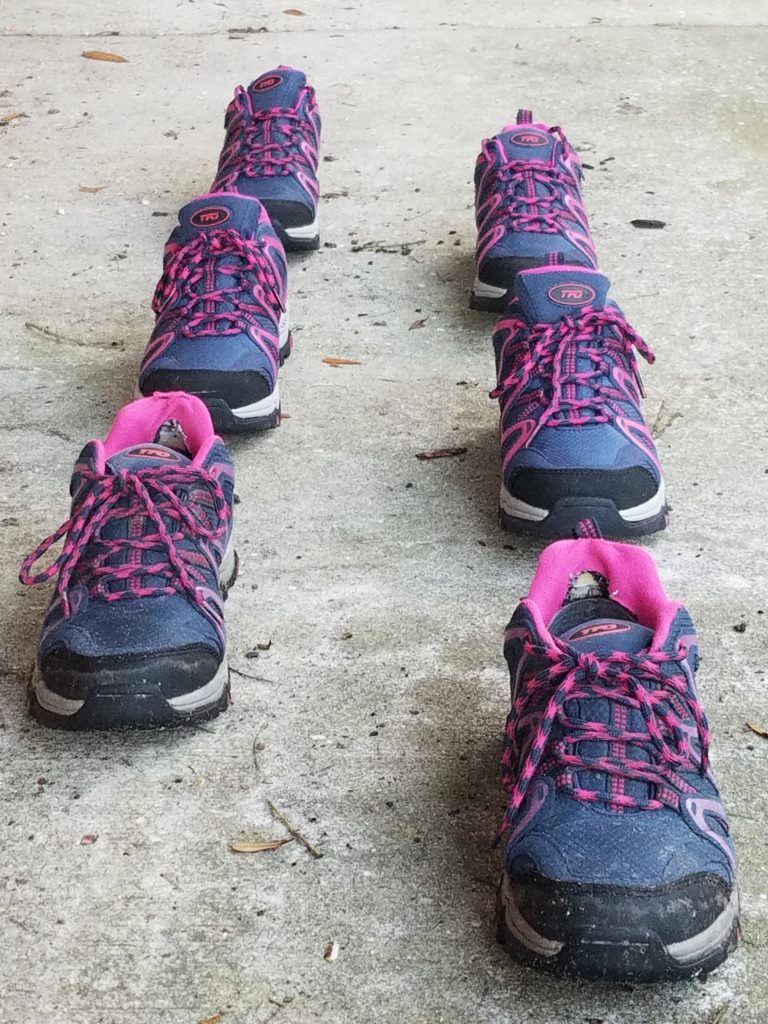 There's quite a debate on which type of footwear is best for the varied terrain. I've concluded boots vs. sneakers is a personal preference. I've selected a waterproof trekking sneaker and have tested them thoroughly. The first pair is worn out from many miles of testing. The middle pair is slightly too small. The last pair is just right and will accompany me on my trip.
How are you using Trello to plan the trip?
Trello lets you create lists and tasks in a flexible and highly visual way. It helps people and groups organize their "to do" lists and projects. Work teams can track projects like a new product launch, a social media schedule, or to prioritize a list of ideas. Families can track their kitchen remodel project, weekly chores, or shopping list. I'm using Trello to research, plan, and prepare for my long-distance walk.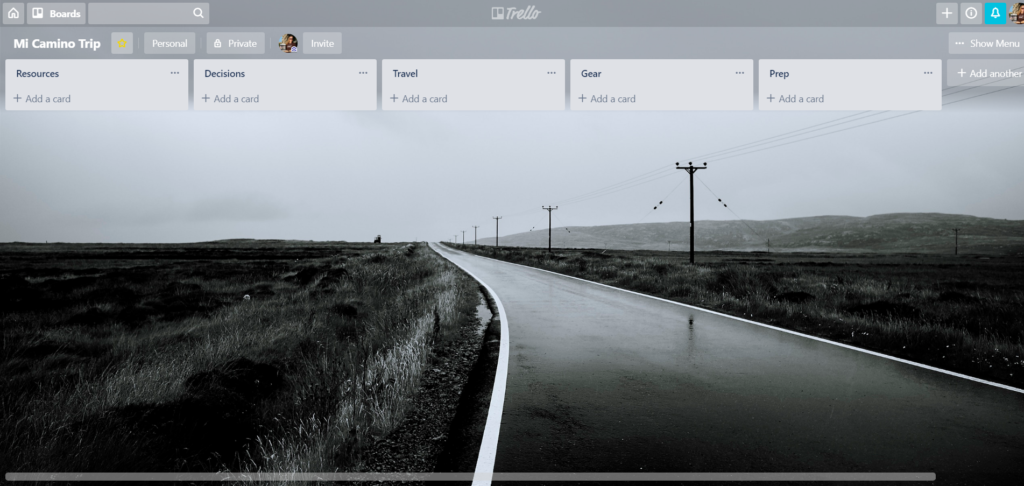 I started with a blank Trello board and added 5 lists to encompass my planning process. The "Resources" list includes all my research items, like books to read, videos to watch, and logistics, like time zone and currency differences. The "Decisions" list captures all the questions to answer before booking flights and making additional plans.
In the "Travel" column, I added the Skyscanner power-up to monitor the costs of flights to Madrid. A power-up is a way to extend Trello's features and integrate it with other Atlassian and third-party apps. The Skyscanner tip is from Bridget Sauer on the Atlassian Community Team. Thanks Bridget!
The "Gear" column is for items carried on the trail. I used it to choose between a poncho and a rain suit, to test different types of socks, and to research whether hiking poles are permitted on an airplane. The result: I'll take a poncho and rain pants, double layer Wrightsocks work really well, and hiking poles are only allowed in checked baggage.
Finally, the "Prep" list includes "to do" items like practice hikes, a reminder to purchase travel insurance, and my packing checklist. My packing list is normally stored in Confluence. I could have connected Confluence and Trello with a power-up, but decided to simply cut and paste. Select your Confluence task items, copy them, and paste them into a Trello checklist. Each item is automatically converted to a checklist item!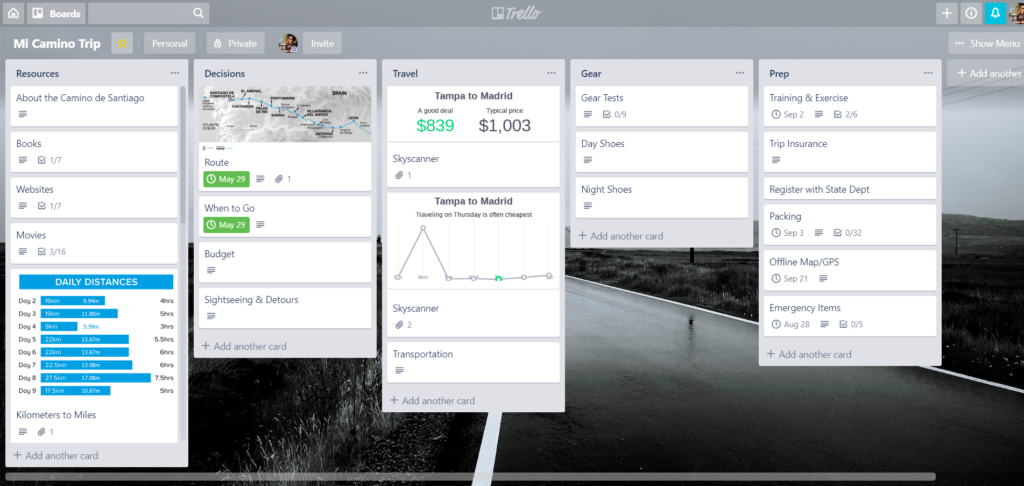 When are you going?
I'm devoting the month of September 2019 to this adventure and to taking a break. I've worked since I was 15, started my first company at 18, and started my first post-college job a few months before I even graduated. This is my first extended break and I've earned it. Thank you Giles Knights from ClearHub who helped me realize this break is an accomplishment. I'm grateful for the ability to take this time off.
We have a special promotion for the month of September 2019. Use code "TREKKING" for $10 off your order at the Strategy for Jira Store.
If you need assistance while I'm away, please contact Chris Lutz at clutz@jirastategy.com.
What's next with Trello?
The next post in this trekking series is about physically preparing to walk long distances. I used Trello to stay focused on my walking plan.
I'll post additional content as I approach the trip and after I return.
Have a question about my trek or about using Atlassian products like Jira, Jira Service Desk, Confluence, or Trello? Ask questions in the comments section below.