A long time dream has come true; I'm a featured presenter at Atlassian Summit! Summit is the grand Atlassian event of the year for users and admins of JIRA, Confluence, HipChat, and other DevOps tools.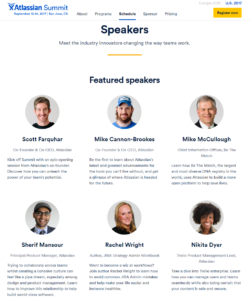 My presentation proposal was selected from hundreds of submissions. Then, out of the hundred speakers, Atlassian chose to feature me! How exciting! That's me, directly under Mike Cannon-Brookes, Atlassian Co-Founder & Co-CEO. Between this, the "One of Us" Community Award, and publishing the JIRA Strategy Admin Workbook, it's been an amazing year! I am so thankful.
The conference is September 12-14, 2017 in San Jose, California. If you're attending, please add my presentation to your agenda!
Presentation Details
Upgrades and Admin at Scale: How to Become a JIRA Admin Champion
Atlassian Summit – San Jose, California
September 13, 2017, 2:20 PM – 3:00 PM, Room 210A
Want to become a wiz at workflows, a master of maintenance, and unafraid of upgrades? Hear real use cases and examples from Rachel Wright, author of the JIRA Strategy Admin Workbook, and learn how to avoid common JIRA Admin mistakes to keep your application clean and uncluttered. Walk through top tips for the smoothest JIRA upgrades with Atlassian Product Manager Josephine Lee, and make sure you can take advantage of the newest features, fixes, and performance improvements of each release. Together, they'll help make your admin life easier and instance healthier so you can become a JIRA Admin Champion.
Rachel Wright
Author, JIRA Strategy Admin Workbook
Josephine Lee
Product Manager, Atlassian