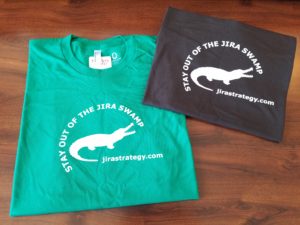 Will you be at Atlassian Summit 2016, in San Jose, California, the week of October 10, 2016?  Come by and meet Rachel Wright, author of the JIRA Strategy Admin Workbook!
Find Rachel in a green or brown JIRA Strategy t-shirt in the following locations:
Wed, Oct 12, 2:00 PM: Atlassian User Group Lounge
Thu, Oct 13, 9:45 AM: Atlassian User Group Lounge
Thu, Oct 13, 2:00 PM: Atlassian Certification Booth
Walking the conference floor, attending sessions, and enjoying Summit!
The JIRA Strategy Admin Workbook is different – it's not documentation.  It's over 150 recommendations that stem from years of cleaning up horrible JIRA configurations.  This book includes 32 real life examples of what NOT to do, over 50 worksheets to get you organized, and templates, code snippets, and wording samples to help you establish and streamline processes.
Summit is the grand Atlassian event of the year.  With the palpable enthusiasm of the employees, the knowledge of the presenters, and the immense networking opportunities, this is the place to experience all that is Atlassian.  Add the next annual event to your calendar now. Visit summit.atlassian.com for details.