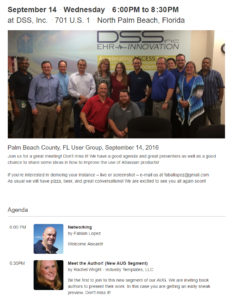 Rachel Wright is a featured presenter at the September meeting of the Palm Beach, Florida Atlassian User Group.   On September 14, 2016, she'll give an early preview of her new book, the JIRA Strategy Admin Workbook.
This book is different – it's not documentation.  It's over 150 recommendations that stem from years of cleaning up horrible JIRA configurations.  This book includes 32 real life examples of what NOT to do, over 50 worksheets to get you organized, and templates, code snippets, and wording samples to help you establish and streamline processes.
Atlassian Users Groups are where users meet, learn, network, and share best practices. The groups meet locally, all over the world, on a quarterly or more frequent basis. User Group members are newbies and veterans who like to "talk shop" about Atlassian software, about Agile development, and about related business topics. At these events, you can network with your peers, share solutions, meet Expert Partners, get special content from Atlassian, and enjoy a beer.
Will you be in Palm Beach on September 14?  Join us, join the User Group in your city, or start a group!