Calling all JIRA Administrators!  Now there's help for managing your application!  The JIRA Strategy Admin Workbook is finally here!
If you're a new Administrator, or your company is just getting started with JIRA, this book shows you what actions to take up front, so you can have a well-planned and easy to maintain tool.
If your company has used JIRA for a while, this book shows you simple ways to streamline your instance and make daily work more manageable.
Tired of dry, technical, and difficult to use software documentation?   This is not documentation, it's strategy!
"It's an awesome book that left me thinking about my JIRA instances and wanting to make immediate adjustments."

   – Gregory Van Den Ham, IT Manager and Chicago Atlassian User Group Leader
The author, Rachel Wright, is an entrepreneur, process engineer, and Atlassian Certified JIRA Administrator.  She wrote this book because she knew she wasn't the only person to inherit a messy configuration.  She says "I want to keep others out of what I call the "JIRA swamp" or, if you're already in it, help dig you out."
"Rachel is an inspiration to all JIRA Admins in her no-nonsense, down to earth approach to JIRA."

   – Susan Hauth, JIRA Queen and Toronto Atlassian User Group Leader
The JIRA Strategy Admin Workbook book contains:
152 recommendations to help you set up, clean up, and maintain JIRA,
50 worksheets, plus additional templates, code snippets, and wording samples to help you establish and streamline vital processes,
33 real examples of problems to avoid,
best practices and dos and don'ts for each administrative area,
the top 10 mistakes I made as an administrator, and
content not available anywhere else.
Get yours now from Amazon (print version) or the JIRA Strategy Store (digital version).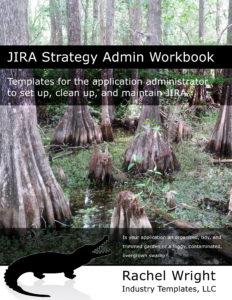 Title: JIRA Strategy Admin Workbook
Sub title: Templates for the application administrator to set up, clean up, and maintain JIRA
Author: Rachel Wright
Publisher: Industry Templates, LLC
Date of Publication: November 30, 2016
Retail Price: $59.99 USD (Print Version)
ISBN-13: 978-1539090229
ISBN-10: 1539090221
Pages: 295