The Problem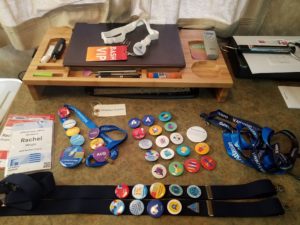 After attending every Atlassian Summit user conference since 2013, I've acquired a lot of buttons, or "Summit flair" as I call them. I've run out of room for them on my conference lanyard however, and honestly, they were getting heavy! So this year, I needed a different solution. How could I display my flair?
The Solution
I thought for a while and came up with nothing. Then, somehow, I thought of suspenders! Now, being a girl, and never being a farmer, I've never worn this contraption. But I asked my boyfriend where I could get them and we found some in the men's section at Walmart. $6.50 USD later and I had a craft project! Follow along below to make your own.
How To
Step 1: Configure suspenders
Realize you don't know how to wear suspenders and watch many YouTube videos until you can successfully adjust the length. Learn that women should wear thinner versions. Ignore that tip; it won't be the first time you're not "on trend" in fashion. PS – A wardrobe of only Atlassian t-shirts is always "on trend"!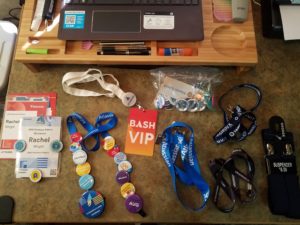 Step 2: Gather Summit materials
Your Summit hording pays off! You have 4 lanyards from previous Summits ready for a second life. Realize you've collected far too many Atlassian pins though. Choose your favorite ten, give the other twenty a hug, and put them away.
Step 3: Gather craft materials
Realize that you travel full-time in an RV so craft materials are scarce. This is the one time where a can of WD-40, a drill, and awning repair tape won't fix it.
Look in the tool box and the office supply drawer. Find a glue stick, a needle, less than a yard of thread, scissors, permanent markers, a seam ripper (why is this needed in an RV?), a label maker, safety pins, a putty knife, and something called "Super Weld." Put half of that stuff away because it won't help this project.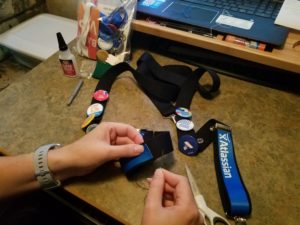 Step 4: Get crafty
Use the scissors to cut the lanyard fabric from its hardware. It frays immediately. Run back to the tool box and find the "Super Weld." Use it as super glue on all the lanyard ends. Do it quick because it's unraveling! Try not to super weld fingers together. Use the needle and scarce amount of thread to affix the lanyard to the suspenders.
Realize that you haven't sewed anything since seventh grade home economics class. Remember? You attempted to make jean shorts. Floral. Denim. Shorts. Horrific! How did you even pass that class?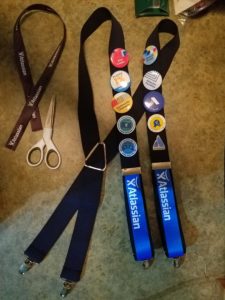 Step 5: Add finishing touches
With the pins and two pieces of lanyard on the front, it's time to decorate the back. People standing behind you need to know about your Atlassian devotion too!
Resist the urge to glue the remaining lanyard with the "Super Weld." Sew a few stitches with the remaining inches of thread. Curse loudly as you struggle to knot the thread by the dim light of a lantern. Only stab yourself with the needle once. Impressive! If this Jira consulting thing doesn't work out, maybe you can be a seamstress?
Step 6: Finish up
It's way past your bed time but you have a completed an almost respectable attempt at custom suspenders. Costs, injuries, and permanent damage to the RV is minimal. Congratulations! All that's left now is to put them on and get yourself to Atlassian Summit!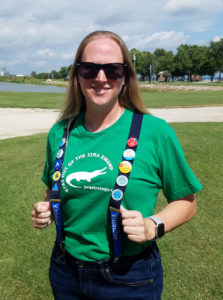 Will you be at Atlassian Summit, in Barcelona, the week of September 3, 2018? Meet Rachel Wright and win her Jira Strategy Admin Workbook or one of 5 new training courses! Rachel will be hard to miss with her custom-made Summit suspenders. Find her in these locations.