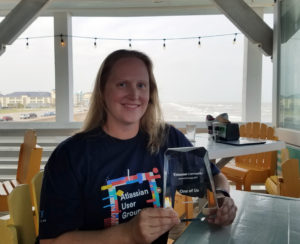 Rachel Wright was honored again at the semiannual Atlassian Summit user conference in Barcelona, Spain.  She received the Atlassian Community "One of Us" award.
This is a special award for Rachel who says "I became an Atlassian User Group Leader simply to learn more about JIRA. Four years later I'm a Certified JIRA Administrator, a Community Champion, and a published author!  I'm very proud that Atlassian considers me an extension of their team.  I love being part of this group of amazing Atlassian employees and fellow volunteers."
Award Details
The awards were announced on May 2, 2017 before a packed room of Atlassians, User Group Leaders, and Community members.
"This award recognizes a Community advocate who brings a level of positive engagement to the user group community. They consistently find ways to stay engaged in their local communities, the AUG program and with the Community team.
Rachel Wright joined our Northern Virginia user group 4 years ago and since then, she has gone on to mentor new leaders, author the JIRA Strategy Admin Workbook, and she is literally an extension of our team. She often creates necessary Confluence pages without us asking (including the Summit Europe travel guide!), is always happy to help us configure our user group leader JIRA instance, and welcomes each new leader warmly.
She's been on an RV road trip since May 2015, finding time to help our South Florida user group kick off their first two events this past year and is looking forward to visiting our Austin user group later this year. She has spent more than 50 hours in the online Community, offering feedback and helping our users! She really is one of us."