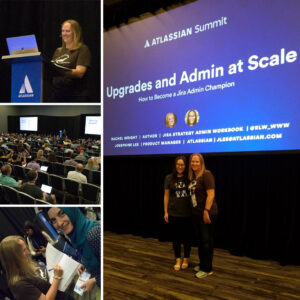 Updated for Summit 2018!
In September, Atlassian, the maker of Jira, Confluence and other development tools, hosts another European user conference! Users in the United States will trade their usual domestic flight to California for an international flight to Barcelona, Spain.
This will be my seventh Atlassian Summit. As a frequent attendee and a frequent traveler, here are my conference travel tips.
Planning and Itinerary
I've been on an RV road trip since May 2015. I work from home, and "home" is wherever I park for the week, month, or quarter! By the time Summit begins, I'll be in my 48th city. I track all my RV trip planning details in Confluence, but when there are flights involved, I track those trips in Tripit Pro. I like this service because it monitors flights, alerts me when gates change, turns confirmation emails into travel entries, has both a web and mobile version, and keeps me organized. There's no wrong way to craft an itinerary, just make sure you have one, it works for you, and it's easy to access when you need it.

TIP
I store my trip packing list in Confluence. I print it out or check off items on my phone as they go into my travel bag.
Summit Information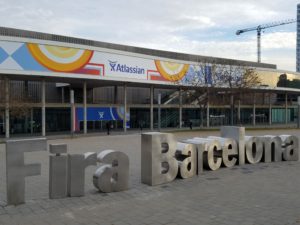 Date: Sept 3-5, 2018 in Barcelona, Spain
Location: Fira Barcelona Gran Via
Av. Joan Carles I, 64, 08908 L'Hospitalet de Llobregat, Barcelona, Spain
Read more: atlassian.com/company/events/summit-europe
Closest Airport: Barcelona El Prat Airport (BCN)
08820 El Prat de Llobregat, Barcelona, Spain
Directions to Conference (6.3 miles)

TIP
Make a checklist list of what you plan to accomplish and who you're hoping to meet at Summit. What do you want to learn from Atlassian? Which Expert Partners will you seek out? I always have a list of names, contact information, and where I might find each person or company.
Travel Planning and Safety Tips

DO
Familiarize yourself with information about Spain and Barcelona. I recommend the DK Eyewitness Travel Guides.
See: Top 10 Barcelona and Barcelona & Catalonia.
Read customs regulations, so you know what to expect when entering Spain and reentering your country.
Be aware of time zone changes. The hours may differ depending on the time of the year. Barcelona Time Zone: CEST (UCT+2)
Check the weather. The season may be opposite from home.
Leave your itinerary and emergency contact information with a team member and a friend or family member.
Record the location of the nearest embassy or consulate. You may need to go there in an emergency or if you lose your passport.
Purchase travel insurance to get reimbursed for charges related to missed or delayed flights, lost luggage, medical and emergency issues, etc. I buy insurance for all international trips.
In 2016, the date of Summit changed to the same week I was scheduled to be on vacation in Iceland. I canceled my vacation, got reimbursed for my expenses, and attended the conference. I've only had to use insurance once and I was sure glad to have it!
Take all the same safety precautions you'd take in any large city environment.
Always walk with a friend or fellow conference attendee.

DON'T
Look like a tourist. Walking around with your head buried in a map (or a phone) advertises don't know where you are.
Join large crowds, gatherings or demonstrations. Your presence can escalate into an international incident.
I once witnessed a demonstration in Buenos Aires. My travel companions wanted to move closer and see what it was about! Not smart. I talked them out of it.
Count money in public, wear valuables, or be an easy target.
Advertise your travel plans. Post to social media after your trip.
Become a victim of pick pockets, "mustard" scams, and other scams typical in major cities.
Don't walk around town wearing your conference badge!
It shows you're a tourist and probably don't know your surroundings. But remember to bring your badge to get into conference events, like Summit Bash.
Flight and Airport
Have you: Been stuck on a plane? Made an emergency landing in an unexpected city? Been trapped in an airport for an extended time? All have happened to me. Always plan for the worst and hope for the best.

TIPS
Never board a plane without water and a snack.
These came in handy while stuck in Costa Rica. Supplies on my grounded plane dwindled quickly.
Always bring a blanket. For long flights I bring a small pillow.
These provided welcome comfort on many cold flights and twice while I was stuck in South Carolina and Peru. I use a sleeping bag liner from ALPS Mountaineering. It's warm, soft, and rolls up to fit in my backpack's water bottle holder. I've used it as a blanket, sleeping bag, pillow, towel, and a makeshift changing room. Last year I tested out a new kind of travel "pillow" called the Trtl. I decided it wasn't for me. This year, I'm testing the Nemo travel pillow which is collapsible, inflatable, and includes a layer of foam.
Always know what kind of airport you're passing through.
I once took a flight from Brownsville International Airport in Texas. I thought "international" meant "large airport with lots of services". I planned to check in early, get lunch, and maybe get a massage. Instead, I arrived at a one-gate airport where the security line didn't open until just before the flight. There were no services or stores. There was a vending machine but I had no cash. I was 3 hours early for no reason. #fail
Passport
Thankfully I only have recommendations and no passport-specific horror stories to share.

TIPS
Research passport and visa requirements.
Make a color copy of your passport's photo ID page. Store a digital copy in your email and on your phone or laptop. Bring a printed copy with you and store it in a different location than your physical passport. If your passport is lost or stolen, alternate copies are vital.
Leave your physical passport locked in a hotel safe. Don't bring it sightseeing or to conference sessions.
If you lose your passport, report it to the nearest embassy or consulate.
Money

TIPS
Provide your credit and debit card companies with your travel dates so they know to expect international charges. Avoid a fraud alert or hold on your accounts. I once had a debit card and a credit card, from two different banks, declined at the same shop. This was very inconvenient. Prevent it by taking action before your trip.
Research credit and debit card international transaction fees. List any fees on your company expense report. They may be reimbursable.
Download and print OANDA's "Traveler's Cheatsheet", a wallet-sized currency converter.
Exchange a small amount of cash at home before you leave and then at a local bank once you arrive. The worst exchange rate is at the airport.
Bring additional local and foreign cash for emergencies. Keep it in a separate location.
On each purchase receipt, record how you paid (credit card, local currency, home currency) to make filing expense reimbursement reports easier.
Technology and Gadgets
I travel very light, bringing only the things I absolutely can't live without. Consider what you packed but didn't use on your last trip. Leave those items at home. Unless you're visiting a remote location, most things can be obtained or borrowed from a fellow conference attendee.
Luggage
I truly believe there are only two types of luggage: carry on and lost!
My bag was lost after an 18 hour flight. When the airline finally found and delivered the bag, it was someone else's! After that experience, I always carry my own luggage.
Have you ever seen a family lugging a cart of bags around the airport? How about a person with the entire set of nesting suitcases? Don't be that traveler!
I used to bring a backpack and a small roller bag until I noticed my boyfriend only carried a backpack. Now I only bring one backpack and I make sure I can comfortably carry its weight. I've spent hundreds of dollars testing out suitcases and travel bags. The very best is my $60 USD High Sierra Access Backpack.

TIP
Make a game of packing. Each trip, see how few items you can bring and how much weight you can reduce. I try for a total weight of ~20 pounds (9 KG), regardless of trip duration.
Another reason not to over pack: you'll acquire a few new t-shirts at Summit!
Mobile
For the previous international Summit, I brought the Skyroam Mobile Hotspot. I'll use it again this year. I don't want to rely on conference or hotel wifi and I also don't want to purchase an international phone plan. This device is network independent. It connects to nearby cell towers so I can check email and communicate through services like Skype and WhatsApp.
I was delayed in Peru once. The airport wifi was down so I had to purchase an international phone card and find a pay phone to alert my boyfriend. The call didn't go through however. I landed in the US 6 hours after my scheduled arrival. It was late at night, the airline office was closed, and my boyfriend hadn't been able to get info about where I was. I promised him I wouldn't travel without communication capabilities again.
United States Specific
The US Consulate closest to the conference is:
Paseo Reina Elisenda de Montcada, 23 08034 Barcelona
Phone: (+34) 93 280 22 27, barcelonaacs@state.gov, Website
Directions from Conference (4-6 miles)
Atlassian Summit Survival Guide
A small amount of planning and organization will help you get the most out of this super event. Read my survival tips for things to do before, during, and after Summit to make this your best conference experience ever!
Also see: How to Get your Boss to Send you to the Atlassian Summit User Conference
Have a great flight and I'll see you at Summit!